Tin City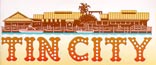 Shop In Tin City, more than 40 eclectic, local shops offer you merchandise and mementos unlike any other. From swimsuits to scrimshaw, form crafts to crystal, from tee shirts to fine jewelry, and everything in between, Tin City lets you take a bit of Naples home with you.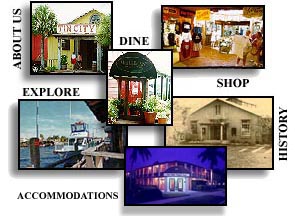 Explore An authentic connect to Naples' nautical past, Tin City is much more than shopping alone. Nautical artifacts, antiques and displays make a stroll through Tin City an adventure back in time. Even more, for those who want to explore Naples' waterways, Tin City is the home for several charter and tour boats.
Dine In addition to its snack shop, Cafe Europa, Tin City offers two great waterfront restaurants--The Riverwalk Fish & Ale House, and Merriman's Wharf. For great seafood, a sizzling steak, a plentiful salad or super sandwich, plan on lunch or dinner during your Tin City excursion.
And More!! It's easy to get to Tin City--just follow U.S. 41 to the heart of Naples, where Goodlette Road meets U.S. 41 at the Gordon River bridge. Free parking is available--there's even valet parking during peak winter months. And, Tin City is fully air-conditioned, indoor marketplace, so you'll be comfortable year-round. Tin City is open Monday through Saturday, from 10 am to 9 pm (10 am to 6 pm from June to October), and Sundays 12 noon to 5 pm year-round. For collectibles, clothing and curiosities, plus dining and even more, come to Tin City Waterfront Marketplace today.
Waterfront Marketplace is Naples' original shopping sensation. Here, in a setting which recalls Naples' nautical past, you'll find more than 40 creative boutiques and great restaurants. Originally a 1920's clam shelling and oyster processing plant, Tin City retains the rustic, maritime spirit of what was once the center of Naples' fishing industry. Even today, Tin City's quaint boardwalks, tin-topped buildings and bayfront shops and eateries overlook the working docks of Naples Bay. Authentically Naples, Tin City lets you discover local treasures of yesterday and today. Tin City is a distinctive shopping experience that you won't find anywhere else. Our shopkeepers are all local business people who scour the market to find merchandise that is appealing to locals as well as to visitors. There are no chain operations in Tin City. Merchandise is competitively priced and you will get great service.
This guide to Downtown Naples Florida has been online since 1997 providing information about 5th Avenue South, Third Street South, Crayton Cove, Tin City and Bayfront Naples Florida. Copyright © ci-InteractiveTM All Rights Reserved
Visit us at www.cyberisle.com